About Us
DanceClassToronto.com is owned and run by Popi Spyridis, Zumba and Fitness Instructor, Ballroom and Latin Dance Instructor and Wedding Dance Specialist. We specialize in Zumba and Wedding Dance choreography and also offer ballroom and latin dance instruction. We have been running regular weekly Zumba classes since May 2012 and continue to have a blast in Zumba. We also run monthly Wedding Dance Workshops which are two hour crash courses in learning to dance a simple but elegant and effective dance for your first dance. We offer private lessons for wedding dance choreography and ballroom and latin dances.
Ballroom Dance Classes, Latin Dance Classes, Wedding Dance Lessons and Zumba classes in Toronto.
Zumba Classes: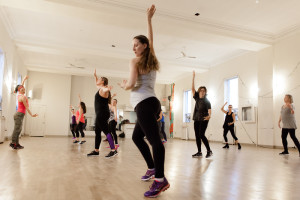 We offer fun and inspiring Zumba classes at convenient locations in Toronto .  Regular weekly classes are held near downtown Toronto and Bloor West Toronto.
ZUMBA®  is a Latin-inspired, dance-fitness class that incorporates Latin and international music and dance movements.  It's an exhilarating, effective, easy-to-follow, calorie-burning dance fitness party that's moving millions of people toward joy and health.  Zumba has grown to become the world's largest – and most successful – dance-fitness program.
Zumba classes are taught by Popi.   Check out our class schedule for Zumba classes in Toronto.
We can also offer special Zumba experiences for parties and onsite Zumba classes for retirement homes, long term care facilities, corporate classes and events.
Wedding Dance Lessons: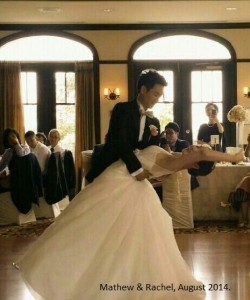 We offer monthly two hour wedding dance workshops which are basically crash courses in designing your first dance. In only two hours, you will learn some basic but elegant and effective steps that will impress your guests. The workshops includes learning basic dance hold and some basic steps, as well as twirls and even a dip, that is designed for those who have never danced before. In just two hours, you will be prepared for your special first dance.
We offer wedding dance private lessons, around your schedule, for specific wedding dance choreography. This option is suitable for those who want something a bit more special. See here for more. Popi, the instructor, has choreographed many many successful first dances as well as bridal groups and father / daughter, mother / son dances including routines that are fun filled light-hearted to make your guests smile and even laugh, and romantic classic dances.
Ballroom and Latin:
We offer ballroom and latin dance instruction in Toronto.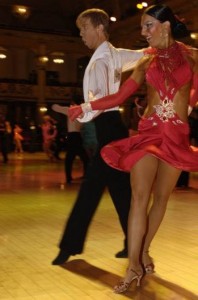 Learn to dance like shows Dancing with the Stars and So You Think You Can Dance!  We teach Latin dances Cha Cha, Samba, Jive, Rumba, Paso Doble, Salsa and ballroom dances include Waltz, Foxtrot, Quickstep, Tango, and more.  In a beginner dance class, you can expect to learn the basics in some of these ballroom and latin dances.   We teach mainly International Style but also social style dancing.  There are 5 standard dances in the Ballroom division:  Waltz, Tango, Viennese Waltz, Foxtrot, and Quickstep.  There are 5 dances in the Latin division:  Cha Cha Cha, Samba, Rumba, Paso Doble, and Jive.  Social dances we can also teach include salsa, mambo and merengue.
We are passionate about dance and hope you will share our passion for the beauty and pure joy of ballroom and latin dancing.   Whether you think you have two left feet or are a star in the making, we will guide you through your first dancing steps and beyond.  Sign up for dance class today and never look back!
We believe anyone can learn to dance.  There is a dancer in everyone.  "Everything in the universe has rhythm.  Everything dances." -Maya Angelou.