STRONG by Zumba
Date/Time
Date - Feb 15 2018
7:00 PM - 8:00 PM
Location
Dovercourt House, 3rd floor
Category(ies)
Train to the beat. STRONG by Zumba® combines body weight, muscle conditioning, cardio and plyometric training moves synced to original music. Every squat, every lunge, every burpee is driven by the music, helping you make it to that last rep, and maybe even five more.  In a one-hour class you will burn calories while toning arms, legs, abs and glutes all synced to great music.
Wear and bring what you would bring to a regular Zumba class PLUS bring a yoga mat.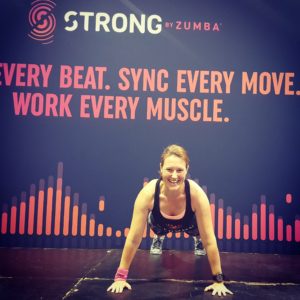 This class is taught by Wanda Prochazka. Wanda is a Financial Manager turned fitness instructor, who teaches Zumba and strength/bootcamp style classes around the city while training for ultra distance running races and endurance mountain bike and multiple sport races. Wanda grew up doing Slovak Folk dancing as well as performing and coaching rhythmic gymnastics. About 6 years ago Wanda was introduced to Zumba and fell in love with dance all over again. Wanda is trained in Zumba, Zumba Gold (for seniors), Sentao (done in chair), Step and now STRONG by Zumba. Wanda loves the strength and intensity STRONG by Zumba provides combined with the upbeat music to help motivate you throughout the work out.
Bookings
Bookings are closed for this class.