Hire Zumba Instructor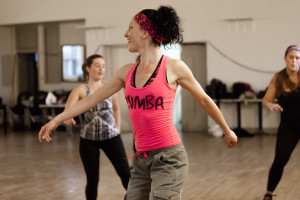 For our regular zumba classes at Dovercourt House click here. Below are some options for hiring a zumba or dance instructor.
Corporate Zumba class or corporate zumba event: Bring fitness to the office and see the many benefits! Morning, lunchtime or after work Zumba classes will keep your team fit, physically, emotionally and mentally. Zumba is an excellent choice for a workplace fitness programme because it's fun, easy and anyone can do it regardless of age or fitness level. We can also arrange special one-off Zumba classes or events for team building corporate activities. Think outside the box! Popi has done several corporate events including for example an active break, which involves getting staff moving and grooving while seated.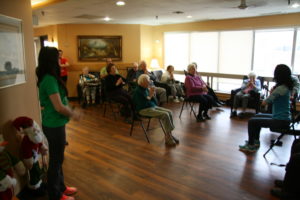 Zumba Gold and Zumba Chair (for seniors): Popi loves teaching Zumba Gold which is perfect for active older adults who love to dance and feel more comfortable in a modified Zumba class that still has all the fun music and moves but just at a lower intensity.We use easy to follow choreography that is fun and uplifting. All elements of fitness are included in this low impact gentle fitness class: cardio, muscle conditioning, flexibility and balance. It's fun, easy and effective.
Zumba Chair is done seated and can be done as an entire class or mixed with some standing. Popi is very passionate about Zumba Chair and teaches at several retirement and long term care facilities. This is suitable for various groups and can be adjusted to suit your needs. Usually a class is 30-45mins and is filled with fun, uplifting music. Zumba Chair has physical as well as mental and emotional benefits.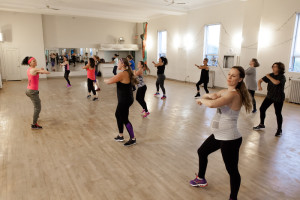 ZUMBA Party: Get the party started with Zumba!  Hire a Zumba instructor for your next event.   Zumba is a FUN idea for events like birthday parties whether it's 16th or 70th, stagettes, baby showers, charity events and  festivals.  Zumba is designed for everyone, regardless of age, dance experience or fitness level.
Zumba Kids Dance Party:  Events or birthday parties for 4 years old and up. Zumba is so much fun and an excellent choice for your child's birthday party. The kids will have a blast learning 1-2 dance routines and then performing them. You can choose from a variety of different dance styles including hip-hop, salsa, and more.
Charity Events: If you are running a charity event, feel free to contact us and we may be able to help. Donations can be made for fundraising events.
Feel free to contact us for a quote, letting us know what you are looking for, including location and date. Email us at admin@danceclasstoronto.com or call us at 416-836-5956.