Bollywood Workshop – Saturday May 13th
By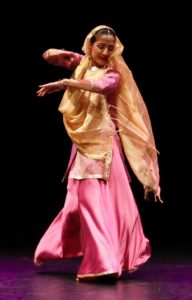 Hello everyone,
I am excited to officially announce a Bollywood Workshop! I have invited Parul Gupta (pictured), to come and do a special class for us.
When: Saturday May 13th , 11am to 12:30pm, 2017, at Dovercourt House, 2nd floor
Parul Gupta's training includes Kathak, Bharatha Natyam, Urban Dance, Ballet/Jazz and Hatha Yoga. Since 2008, she has been particularly focused on her study of Kathak (North Indian Classical Dance), in both Canada and India. Parul is also a teacher of Bollywood Dance and has taught across Canada and abroad. She is the founder and artistic director of Infusion Dance Studios (www.infusiondance.ca), based in Toronto and Montreal. Her choreographies are part of the Cirque du Soleil productions "Love", "Kooza" & "Totem". Her full-length solo performance credits include the Canadian Opera Company's Free Concert Series at the Four Seasons Centre for the Performing Arts), Sivananda Yoga Retreat in the Bahamas, Vancouver's annual India Classical Dance Festival " Gait to the Spirit" and Sampradaya's "Horizon Series".
Cost: $20 if you attend Zumba regularly, $25 for zumba students' friends / family, $30 otherwise.
Please register in advance, in person or online.
To register online click here
I hope you will join us!
Keep dancing,
Popi